CUBE HYPER light tower
The special CUBE HYPER version by Generac Mobile® is a lighting tower equipped with the new Hyper® LED Technology allowing the operator to point the floodlights in every direction, to provide 360° illumination. Also available with anti-glare floodlights.
Digital controller
The CUBE Hyper is equipped with a digital controller specifically studied to manage every function of the light tower for the best ease of use.
Top accessibility
5 wide doors for complete access to the technical area.
Bolted frame
A bolted frame for a much better resistance to vibrations, wear, and rust. It offers the best reliability and durability in the industry.
Liquid containment tank
A liquid containment tank to avoid any risk of leakages on the ground.
Safe locking stabilizers
New adjustable locking system embedded in the machine frame. A step forward from competition standard locking system. No more removable external lockers: when CUBE HYPER doors are locked, it's impossible to change position or even remove the stabilizers.
CUBE Hyper K2
Kubota Z482
| | |
| --- | --- |
| Minimum dimensions (L x W x H) | 1230 x 1160 x 2405 mm |
| Maximum dimensions (L x W x H) | 1790 x 1735 x 8400 mm |
| Dry weight | 1070 kg |
| Lifting system | Hydraulic |
| Mast rotation | 340° |
| Lamps power | 4 x 320 W |
| Lamps type | LED (Hyper) |
| Total lumen | 184000 Lm |
| Illuminated area | 4500 m2 |
| Engine | Kubota Z482 |
| Engine cooling | Liquid |
| Cylinders (q.ty) | 2 |
| Engine speed (50/60 Hz) | 1500 / 1800 rpm |
| Liquid containment (110%) | √ |
| Alternator (kVA/V/Hz) | 3.5/230/50 – 4.2/240/60 |
| Outlet socket (kVA/V/Hz) | 2/230/50 – 2/240/60 |
| Inlet plug (A/V/Hz) | 16/230/50 – 16/240/60 |
| Avg. sound pressure | 58 dB(A) @ 7m |
| Wind speed resistance | 110 km/h |
| Tank capacity | 170 l |
| Running time | 243 h |
CUBE Hyper Y2
Yanmar 2TNV-70
| | |
| --- | --- |
| Minimum dimensions (L x W x H) | 1230 x 1160 x 2405 mm |
| Maximum dimensions (L x W x H) | 1790 x 1735 x 8400 mm |
| Dry weight | 1005 kg |
| Lifting system | Hydraulic |
| Mast rotation | 340° |
| Lamps power | 4 x 320 W |
| Lamps type | LED (Hyper) |
| Total lumen | 184000 Lm |
| Illuminated area | 4500 m2 |
| Engine | Yanmar 2TNV-70 |
| Engine cooling | Liquid |
| Cylinders (q.ty) | 2 |
| Engine speed (50/60 Hz) | 1500 / 1800 rpm |
| Liquid containment (110%) | √ |
| Alternator (kVA/V/Hz) | 3.5/230/50 – 4.2/240/60 |
| Outlet socket (kVA/V/Hz) | 2/230/50 – 2/240/60 |
| Inlet plug (A/V/Hz) | 16/230/50 – 16/240/60 |
| Avg. sound pressure | 58 dB(A) @ 7m |
| Wind speed resistance | 110 km/h |
| Tank capacity | 170 l |
| Running time | 243 h |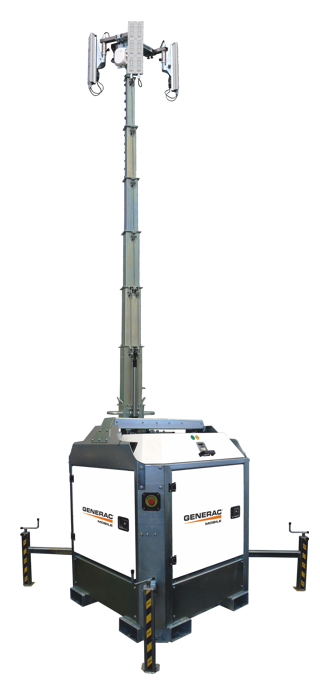 Information
Entertainment

Construction

Rental